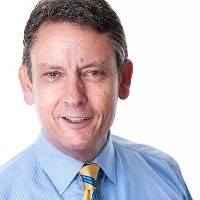 Ron is a leading professional expert in business relationships, networking and word of mouth referrals, and will give you the answers to those questions that have been holding you back in your networking and business development success.
Hitting the nail squarely on the head, his entertaining presentations distil more than 20 years of experience and insights gained from building his own successful business exclusively from networking and relationships.
Ron's client list reads like a who's who of Australian financial services, professional
services and business-to-business service companies and firms.
"I have known and worked with Ron Gibson for around ten years and have watched him develop "Networking and Business Development" literally into an art form. His system and process is logical and straight forward and can be used by anyone who wants to be effective and more successful in this critically important area of business life. I have attended six or seven of Ron's seminars over the years and always come away with something new and useful to use. I have used Ron's process very successfully over the years, and am very happy to recommend him to our team at BDO, to clients and to friends".
Brian Aitken
Senior Adviser, BDO Perth
"We can attribute tens of millions of dollars in additional sales and new business to the
networking skills training Ron Gibson has done for our people."
Norm Roberts
General Manager, Mobile Lending Perth CBD
and Mt Lawley. ANZ Banking Group.